High-strength aircraft aluminum sheets are of low density, high strength, and good thermal processing performance, which have broad application prospects in aerospace components. For example, high-strength aluminum alloy thick plates are used as the main load-bearing components, and the proportion of use accounts for 30% to 35% of the total aluminum consumption in the aircraft.
Aluminum-copper (2000 series) alloys are the predominant aluminum alloys used in airframe structures, where the primary design criterion is damage tolerance. Compared with other series of aluminum alloys, 2000 Al-Cu alloys have higher strength, higher damage tolerance and good fatigue crack growth resistance due to the precipitation of Al2Cu and Al2CuMg phases. 2024 are the typical grade.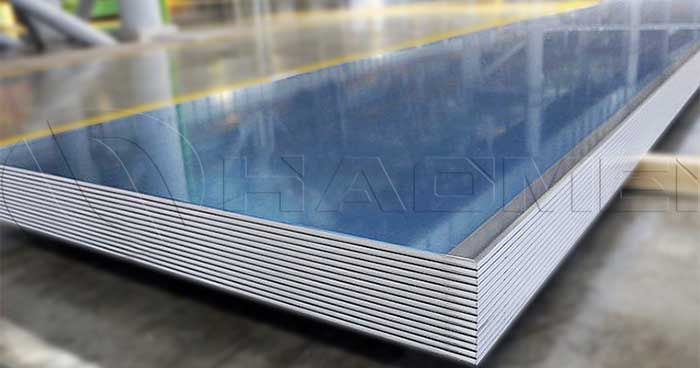 2024 aluminum is a typical hard aluminum alloy with good comprehensive performance. It has high compressive strength, certain temperature resistance, and can be used as working parts below 150 degrees. After heat treatment, the 2024 aluminum alloy has undergone solid solution treatment to obtain relatively high compressive strength and ductility. It is generally used to produce skins, roof beams, bulkheads, and wings of airplanes.
The compressive strength of 2024 aluminum sheet is higher than that of 7075 aluminum sheet. The forming properties are better in the thermal condition, quenching and new heat treatment conditions, and the heat treatment process enhancement effect is remarkable, but the heat treatment method is strictly specified. Its corrosion resistance is weak, but it can be reasonably maintained by cladding with pure aluminum.
2024-T3 is one of the most widely used alloys in airframe construction. It has moderate yield strength, very good resistance to fatigue crack growth and good fracture toughness. 2024 aluminum sheet remains an important aircraft structural material due to its excellent damage tolerance and high resistance to fatigue crack growth under T3 aging conditions. Welcome to leave message below to inquire 2024 aluminum sheet price.